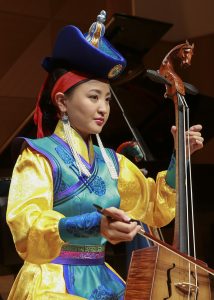 デルゲルマー(馬頭琴) 
 モンゴル国オブス県出身。民族楽器を作成していた祖父の影響で、幼いころから音楽や踊りが身近な環境に育つ。
 1997年、ザヴハン県音楽舞踊学校中等部に入学。従来モンゴル国で馬頭琴は男性楽器とされ、女性馬頭琴奏者は二人しかいないなか、教師の勧めで馬頭琴を専門に学び始めた。ザヴハン県音楽舞踊学校でアズジャルガルに師事。2001年から2004年、ウランバートルの国立音楽舞踊学校でアマルジャルガル、モンゴル国立馬頭琴交響楽団長で指揮者のバトチョローンに師事。2007年学士の学位を取得。在学中2005年から国立馬頭琴交響楽団に所属し、三人目の女性馬頭琴奏者として世界各地で演奏。
 2006年より国立馬頭琴交響楽団メンバーとして来日。2007年、モンゴル国立フィルハーモニーで協奏曲を演奏。2009年、ホーミー歌手ウンダルマーと共演。2010年、韓国に留学、CPIプログラムに参加、民族楽器を受講。2007年、2009年、ジャミヤン馬頭琴コンテスト受賞。2012年、ムルドルジ記念民族楽器音楽コンクール入賞。2013年7月、新潟県各地でソロ・コンサートを実施。2014年、モンゴルの伝承曲から現代まで収録したCD「サツァル」をリリース。2015年12月よりモンゴル人作曲家の現代音楽シリーズ、「モンゴルクラシックを弾く」を東京で開始。2017年4月、ラ・フォル・ジュルネ新潟出演。現在、新潟県を拠点に馬頭琴の普及・指導も行っている。ミリオンコンサート協会所属。
Delgermaa, Morin Khuur
She was born in Ulaangom city of Uvs province. Her grandfather N.Namsrai was an artisan who made Ikel fiddles and her grandmother was gifted with singing and playing "Horse galloping" with ikel fiddle. Her parents Altangerel and Anchmaa have worked for the Uvs province Theatre of Musical Drama as sound and light engineers for more than 30 years.
1997-2001 Secondary School of Music and Dance Zavkhan province, instructor Kh.Azjargal
2001-2007 Bachelor of Arts, Music and Dance College in Ulaanbaatar city (Lead teacher Leading Artsist tittle recipient Ts.Amarjargal, teacher Leading Artsist tittle recipient Ch.Buyanbaatar, People's artist Ts.Batchuluun)
2010 Culture exchange CPI program at the National Theatre in Seoul, ROK
2005 – present National Morin Khuur Ensemble
2009 Joint concert with a throat singer of National Song and Dance Academic Ensemble, sibling A.Undarmaa
2011 "Khos Uyanga" (A pair of harmony) joint performance with "Shurankhai" band singer G.Nomin-Erdene in Kyzil, Tuva, Russian Federation
2013 Join performance with a zither player Ch.Myagmarsuren in Nagaoka of Niigata province, Japan
Awards
2002 1st prize winner from the 1st Teenage folk musicians competition dedicated to S.Gonchigsumlaa
2007 9th place from the Professional Horse Head Fiddle Players Competition-2 dedicated to the State Laureate, People's Artist G.Jamyan
2012 5th place from the National Competition of Folk Musicians-2 dedicated to L.Murdorj
2012 Recipient of a Certificate of the Ministry of Culture Sports and Tourism
She has performed with the National Morin Khuur Ensemble in Austria, Germany, Switzerland, Spain, Japan, Taiwan, China, Inner Mongolia, South Korea, Buryatia.